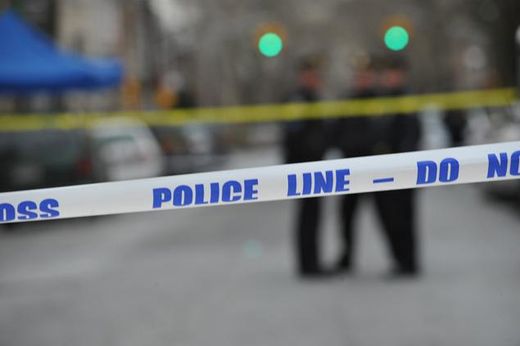 A 7-year-old Queens student showed up for school Thursday with a handgun and ammunition in his bookbag, prompting a police investigation and a lockdown of the building.
An NYPD school safety agent discovered the handgun, a .22-caliber, shortly after the boy arrived for class at the Wave Preparatory Elementary School in Far Rockaway, police sources said. A 10-round ammunition magazine and loose bullets were also found in the bag.
But with thoughts of the Newtown school shooting in Connecticut still fresh in people's minds, parents of students at the school were worried, andfrustrated at a lack of answers from school officials about what happened.
"I went to pick up my son. I asked one of the cops what happened, and he just said: 'Nothing to be worried about. Nothing to be worried about,'" Jessica Cox, 25, of Far Rockaway, said as she went topicked up her son,
Devonte Small-Gibbs, 8, at P.S. 215, which shares a campus with Wave Preparatory.
She brought two younger children with her to pick up Devonte."Someone brought a gun - that's something to worry about," Cox fumed. "What if I walked in with my other two kids in the midst of a gun fight? I'm ready to change schools. This makes me nervous."
Police sources told the Daily News that the 7-year-old's mother went to the school after a person who lives with the family told her the boy had left home with the weapon in his bag.
The mother told the school's principal, the sources said, and school safety agents eventuallyfound the gun in the boy's bag after searching him and a classmate.
Cops are questioning the boy and his mother at the NYPD's 101st Precinct stationhouse, and investigators are looking to speak with the boy's older brother, the sources added.
A spokeswoman for the Department of Education confirmed the lockdown. Parents and students told The News that the school does not have metal detectors.
Santos Hercules, 11, a fifth-grader at the school, said he tried to stay calm during the frightening ordeal.
"On the loud speaker the principal told us there was someone near the school with a gun; she said everybody had to go to a little corner where he couldn't see us," he said. "We had to stay quiet 'til it passed ... I felt scared, but I wasn't too scared because I knew I had to be strong."
Shakyla Howard, 8, a third-grader, said her teacher became very emotional because the door to their classroom did not have a lock.
"They said that we were in lockdown; they made us turn off the lights and hide behind the teacher's desk next to the closets," she recounted. "After that, they just told us to be quiet. Our teacher almost started crying because she didn't want us to get hurt. She knew there was no lock."
Shakyla's stepfather, Lawrence Clark, 44, said he only found out about the lockdown when his brother-in-law told him after seeing a post about the incident on a Facebook community page for the school.
"I tried to call the school, but they wouldn't tell me anything in the office. All they did was send home a note with the kids that said there was an incident at the school and the school had to be locked down for safety," he said.
"It said nothing about a gun. We were not contacted - and that's crazy. We're finding out more on the news than what anybody here's told me!"
He said parents should have been notified by either a telephone call or a text message alert.
"For parent-teacher conferences, you get a call everyday," he said. "For this, nothing."