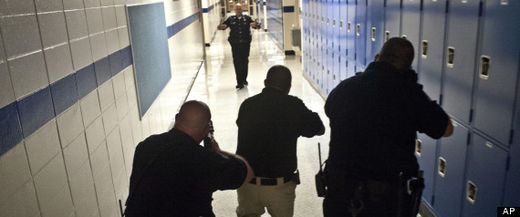 The sheriff's office, Oakland Schools and the county's Homeland Security division will collaborate on the training program..
Teachers and school staff in Rochester and across Oakland County will receive expert training in the next two months on how to react in an active school shooter situation.
County officials said Friday that the Oakland County Sheriff's Office and the county's Homeland Security Division will conduct five training sessions for school personnel starting in two weeks.
In addition, Sheriff Michael Bouchard will give active shooter presentations on site at various schools in the county.
Bouchard has received numerous requests for the presentations, he said.
"Active shooter situations are unpredictable and evolve quickly, which requires people on the scene to be prepared both mentally and physically while waiting for law enforcement to arrive," Bouchard said in a statement.
The training is in response to the shooting tragedy last month at Sandy Hook Elementary School in Connecticut.
"Dec. 14, 2012 is emblazoned on our memories forever," Oakland County Executive L. Brooks Patterson said in a statement. "Many died in the Newtown, Conn. tragedy. But many others survived because teachers knew just what to do with a shooter in the building."
After the shooting in Newtown, leaders from the county's Homeland Security division and Oakland Schools met to plan the upcoming large-scale training sessions.
In Rochester, the schools have implemented a revised locked-door policy since the shooting Dec. 14. All school doors, including the main entrance doors, are now locked during the school day. Interim Superintendent Tresa Zumsteg said this week she is meeting with the district's Critical Incident Team and with leaders from Rochester Schools and other area schools in the coming week to discuss further security measures.
Rochester Patch