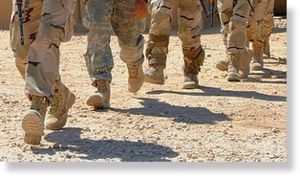 Last week we reported that in the aftermath of the so far disastrous French campaign to eradicate "rebels" in the north of Mali, because of their implied threat fo Europe, that "
US Drones, Boots Arrive In Mali
."
Turns out we were wrong, and as the case virtually always is, for some reason there was
already a US presence
of at least three US commandos in Mali in the summer of 2012. What they were doing there remains a mystery, as it is a mystery if the ever co-present flip flops on the ground were there inciting the perpetual scapegoat Al Qaeda to do this, or that.
Or maybe it was not the CIA. Maybe it was the Army's "little-known and secretive" branch known as the Intelligence and Security Command. Regardless, what becomes obvious is that while the US was on the ground and engaged in secret missions, it needed an alibi to avoid "destabilizing" the local situation once its presence became conventional wisdom. It got just that, thank to one Francois Hollande just over a week ago.
From the
WaPo
, as of July 8, 2012:
Enter the Intelligence And Security Command
Why Mali?
The stumbling block:
Moeller was right, and neighbors such as Algeria eventually did promptly respond in "popular backlash" that led to the deaths of
at least one US hostage
.
But back to the US Commandos, and,
lo and behold
, prostitutes:
Hookers or not, what is obvious is that the US did have a largely secretive presence in Mali, which may or may not have led to ongoing social destabilization, which ultimately provided none other than the US with the ultimate cover to engage in whatever "anti-terrorist" operations it so chose. The name of the cover?
France.