Up next: Credit card checkout fees
Beginning Sunday, merchants will be allowed to charge a fee for accepting MasterCard and Visa. It remains to be seen if they will.
This post comes from Beverly Harzog at partner blog Wise Bread.

Would you pay a fee to use your credit card? I don't even need a nanosecond to answer this. My response is:
No freakin' way
.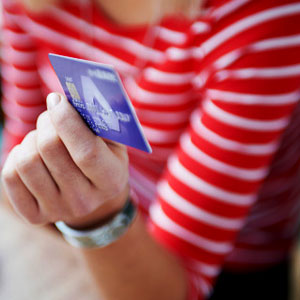 Here's why I'm asking the question. Last summer, there was an antitrust settlement between merchants and Visa, MasterCard and big banks about credit card interchange fees. These are the "swipe" fees merchants pay to the networks (like Visa) to process your payments when you use your card.
The settlement called for merchants to receive $7.2 billion in cash and temporary reductions in interchange fees. This settlement also gave merchants the legal right to add a "checkout fee" when you use a credit card to pay for purchases. These fees could start popping up as soon as Sunday.
How to know if a checkout fee will be charged
Merchants can't sneak in the fee without telling you upfront. They have to disclose that you'll pay more for using a credit card. So if you're in a store, look for notification at the entrance or at the register. When buying an item online, look for the checkout fee to be disclosed on the homepage of the business.
Retailers are allowed to charge a fee that's the equivalent of what they pay for the interchange fee, which is between 1.5% and 4%. I was kind of surprised to find out that merchants can add a surcharge of up to 4%. You know, that's a lot.
Competition is your friend
OK, so the settlement gave merchants the right to ask customers to pay a surcharge if they use a credit card. So they have the right to do it, but does it make business sense for retailers to charge a checkout fee?
I say no, it doesn't. I'm pretty sure a minority will try it out and see how it goes. If you use your credit card to pay for a $200 purchase, you could pay up to $8 just for the privilege of using a credit card. And if you're using a rewards card, paying an extra fee lowers the value of the rewards.
At the end of the day, we're all smart enough to do the math and choose the retailer that gives us the best deal. So I think competition is one of the reasons we won't see widespread checkout fees, at least not right away.
Also, other than price, customer service is often the best way for competitors to differentiate themselves. Retailers that don't charge their customers a checkout fee will look more consumer-oriented.
If you think about it, the only retailer that can probably get away with it easily is a store that offers something so unique that there's limited competition. Maybe if that were the case, you wouldn't even care because, for whatever reason, you really needed that specific, unique product.