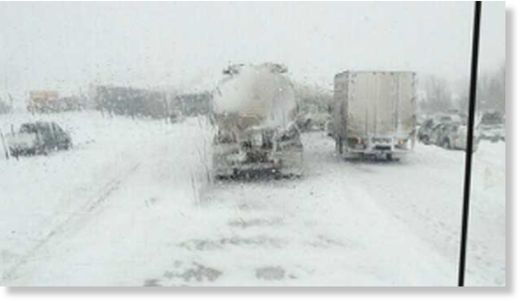 Most injuries reported to be minor to moderate, 1 serious
CBC-



Alberta Health Services confirms that 100 people were injured - one seriously - in a multi-vehicle pileup on Highway 2 south of Edmonton, near Leduc, that occurred during a spring snowstorm which caused havoc on area highways.





Earlier in the day it had been reported that 300 people were injured.





Those requiring medical treatment were being transported to hospitals in Edmonton, Red Deer, Leduc, St. Albert, Fort Saskatchewan, Devon, Wetaskiwin, Stony Plain, Lamont and Camrose.





AHS says that EMS staff will treat and take the most seriously hurt patients to hospitals by ambulance; the rest will be transported by bus





The number of vehicles involved in the pileup has not been confirmed.





The Leduc crash wasn't the only incident tying up roads and police. Highway 16 eastbound between Range Road 13 and 15 has been closed due to the number of collisions, including one which left a semi-trailer blocking several lanes.





Another collision involving transport trucks is causing traffic tie-ups in both directions on Highway 16 at Highway 60.





Highway 2 was closed near Wetaskiwin after a multi-vehicle crash north of the Highway 13 overpass. RCMP said that northbound traffic was being redirected onto Highway 13.





Edmonton police reported 17 collisions between 6 and 9 a.m. on Thursday: 12 property collisions, three hit-and-runs, and two collisions that resulted in injuries.





Alberta Transportation has closed Highway 12 from east of Castor to the Saskatchewan border and Highway 13 from east of Hardisty to the Saskatchewan border due to rapidly deteriorating conditions.





Highway 41 is closed from New Brigden to south of Wainwright.





The Alberta Motor Association is reporting highways to the east and south are partly covered with snow and ice.





RCMP are advising people to stay off Highways 28 and 63 in the Redwater area because of blowing snow and icy roads.





Police also report drifting snow and black ice on highways and roads in Lac La Biche County.





Travel is being discouraged on the QEII from Red Deer to Didsbury due to blowing snow and reduced visibility.





The Edmonton area is expected to receive about 10 centimetres of snow on Thursday.





CBC meteorologist Stephanie Barsby expected conditions to get worse as the day progresses, particularly as wind gusts pick up to 40 km/h this afternoon.