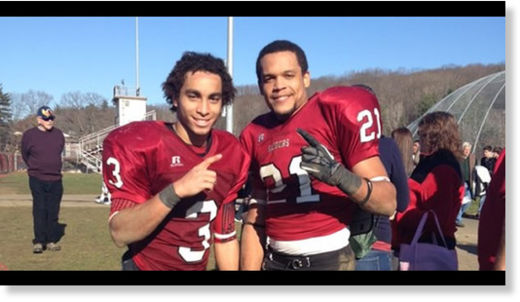 A third student has been charged in the Torrington High School sexual assault investigation, and police say even more charges could be on the way.
The third student is a 17 year old male who cannot be named due to his age,
according
to Fox affiliate WTIC-TV in Hardford, Connecticut. His charges follow the arrests of Edgar Gonzalez and Joan Toribio, two 18-year-old football players who are accused of sexually assaulting two 13-year-old girls in February, in a case that ultimately led to the girls being harassed by fellow students.
Gonzales and Toribio were both arrested in February. Police and school officials announced the arrests, along with the charges for the unnamed third individual, at a media briefing on Wednesday.
Speaking to reporters, Lt. Michael Emanuel cautioned that there may yet be more arrests forthcoming. "It's very complex, but [the case is] under control," he said,
according
to
The Hartford Courant
. "I'm not minimizing this."
He added that the incident is being investigated as sexual assault because of the age difference between the suspects and victims. "It was consensual in the sense that it was not an attack but not consensual in the eyes of the law," Emanuel reportedly said.
Both victims reportedly faced harassment by fellow students on social media and at school following the football players' arrests,
according to local media reports
. In particular,
The Register Citizen
found
posts on social media showing that the girls were harassed by "dozens" of athletes and students at the school.
The charges come in the shadow of the Steubenville rape case, which garnered national media attention after hackers publicized shocking video of a teen revealing details about how two football players at the Ohio school
drugged and raped a 16-year-old girl
at a party as others watched and cheered them on. The two teens, 17-year-old Trent Mays and 16-year-old Ma'lik Richmond, were
tried
as juveniles and found guilty earlier this month.