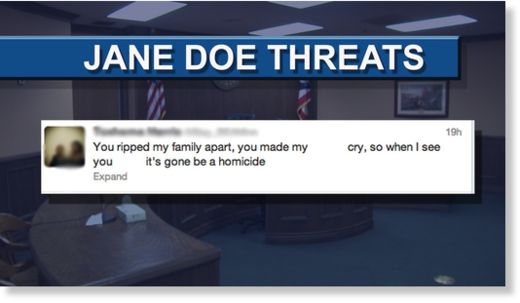 The two teens charged with allegedly threatening the rape victim in the Steubenville trial via twitter will not be getting out of detention anytime soon. One of them allegedly made a specific threat of homicide against Jane Doe, the other threatening bodily harm.
Judge Samuel Kerr held a hearing for the two girls to Tuesdayto determine whether they should stay in juvenile detention or be released to their parents. Both teens are charged with intimidation of a victim, aggravated menacing and telecommunications harassment.
As Judge Kerr ordered the girls to return to the detention center, sobs immediately flooded the room. Defense Attorney Fran Coranci held her client close to her as she wept in her arms.
Coranci said she knows her client personally and that she is a good girl who has never been in trouble before.
"This was just an unfortunate over reaction to something kids were talking about on social media," Coranci said. "I think we have a real problem with people dwelling on what people said."
"At this point it's not tolerated," said Prosecutor Samuel Pate. "It's beyond me why these young people continue to believe that is ok to post things of this nature on social media for the world to see."
Both defendants know the two boys charged with rape personally. One is a relative; the other is a close friend.
A Judicatory hearing is scheduled for March 27. If the girls are found guilty of intimidation of a victim they will be placed in the department of youth services for six months. If found guilty of the other two counts, they will be ordered to less than 6 months on those charges as well.
WTRF 7 News Sports Weather - Wheeling Steubenville