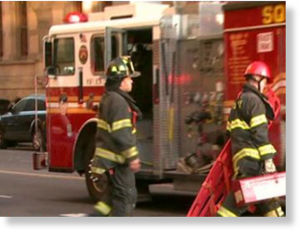 A man was struck and killed by a subway train early Saturday at the 72nd Street and Central Park West station.
As CBS 2's Amy Dardashtian reported, police said John Williams, 58, had climbed down onto the tracks to retrieve something when he was struck by the southbound D train around 6:40 a.m.
Police did not know Saturday afternoon what the item was.
There was utter chaos following the accident, as first responders rushed to get people out to the station, and to try to save the man.
Williams, of the Washington Heights section of Manhattan, was taken to St. Luke's-Roosevelt Hospital Center, where was pronounced dead, police said.
Passengers on the A train - which is already shut down for maintenance north of 168th Street this weekend - were redirected to the 1, 2 and 3 lines Saturday morning. The C and D trains were also affected.
By 8:30 a.m., A and C train service, as well as D train service, had resumed with residual delays.
There are signs mounted in the subway system, warning passengers not to climb down onto the tracks if they drop something.
One subway rider, Gary, said he rides the London Underground from time to time. He noted that in some stations there, the tracks are completely covered by a plastic bubble that only opens when the train doors open so no one can get hit by a train.
Some have called on the Metropolitan Transportation Authority to erect similar barriers, but the MTA so far has rejected the idea -
saying
it would cost over $1 billion to retrofit the entire system.
Regardless, Gary said he cannot imagine climbing down onto the tracks to get something he dropped.
"I guess it depends how desperately he needed the thing that he dropped, but I would never go down there," he said.
The scene is only about seven blocks from the site where Liam Armstrong, 18, was
struck and killed
by a train as he celebrated his 18th birthday.
Armstrong, of Long Island, and his two friends were waiting for a train at the 79th Street 1, 2 and 3 line station when they realized they were on the wrong platform, police said. Instead of taking the stairs, police said they attempted to run across the four tracks to get to the downtown platform.
And just
this past Thursday
, Bobby Legrand Guin of Mary Esther, Fla., was hit by a northbound A train at the 110th Street-Cathedral Parkway station after doing much the same thing as Williams.
Guin was on the platform when he dropped wads of $20 and $50 bills and jumped down to retrieve the money when the train struck him, police said.
Guin had just moved to New York to pursue a business career.