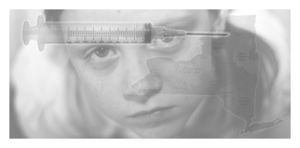 It's illegal for children to
vote. It's illegal for
children to choose to
drink alcohol. It's illegal
for children to drive. It's
illegal for children to
give consent for medical procedures. Yet, New York is
planning to let children give consent for vaccinations, a
potentially life-changing or destroying procedure,
without parental consent?
Christina England
Gaia Health
On Monday, May 6, a new bill is to be brought to the New York State Assembly floor which will allow licensed physicians to administer preventative medical care for sexually transmitted diseases, including vaccines to minors without their parent's permission.
This will include the vaccinations for hepatitis B and HPV.
The reasoning behind the bill is that section 2305 of the public health law currently permits a licensed physician or a staff physician to diagnose and treat a person under the age of 21 infected or exposed to a sexually transmissible disease without the consent or knowledge of the parents or guardians.
The bill states that the current law does not allow young people the same access to care as adults to prevent sexually transmissible diseases.
The bill states:
When a bill of this nature becomes law, minors can be vaccinated without their parent's permission, and vaccines for sexually transmitted diseases
could also be able to be given to newborns without parental consent
.
Don't Let Your Child Be the Next Victim
The GreenMedInfo website has listed a total of 60 papers detailing the potential dangers of the Hep B vaccination.
[2]
However, if readers feel that researching all these papers is just a little overwhelming, then one of the strongest reminders of just how this vaccination can affect a newborn can be found on the Age of Autism website.
[3]
In 2009, the
Age of Autism
highlighted the tragic story of Ian.
Ian was born a completely healthy baby boy, although he did have one complication when he swallowed some of the meconium (stool) during delivery. After receiving treatment for breathing difficulties, it was not long before doctors stated that he was well enough to be discharged.
Despite the fact that Ian had a fever and was still fighting the side effects of swallowing meconium, Ian's parents were asked to sign a form to allow them to administer the Hep B vaccination before their baby was released.
His mother takes up the story for the Age of Autism:
The photos of baby Ian are probably the most horrific photos I have ever seen. They are stark reminder of just how dangerous this vaccination can be, a vaccination that the USA government, wants to administer to a minor without parental consent.
The Facts About This Dangerous Vaccination
Reports of adverse reactions show that as of mid-2012, the Vaccine Adverse Event Reporting System (VAERS) has received 119 reports of death following HPV vaccination, as well as:
894 reports of disability

517 life-threatening adverse events

9,889 emergency room visits

2,781 hospitalizations[4]
According to Diane Harper, an international expert in HPV science, its vaccines, its clinical disease and treatment and the leading professional involved in the clinical trials of the HPV vaccinations, the duration for the effectiveness of the HPV vaccination Gardasil is just five years. In an interview with Marcia G. Yerman she states:
If this is correct, a child vaccinated at age eleven will not be protected on any level unless she becomes sexually active before the age of sixteen. Quite shocking, isn't it?
One of the most damning facts that Ms. Harper revealed in her interview was when Ms. Yerman asked her this question:
Ms. Harper answered:
I have also interviewed Ms. Harper and I also received similar answers.
How You Can Protect Your Child
Knowing that a leading expert has been prepared to state these facts, are you completely happy to have your rights as a parent taken away from you? If you are not, then the website truthaboutgardasil.com asks you to do the following:




Conclusion
Please act now if you want to have a say in what vaccinations your children receive. These vaccinations are not as safe as the US government wants you to believe they are. If you are still not convinced, please watch the following two videos on the HPV vaccines.
Sources:
1.
http://assembly.state.ny.us/leg/?bn=A00497&term=...
2.
http://www.greenmedinfo.com/anti-therapeutic-action/vaccination-hepatitis-b...
3.
http://www.ageofautism.com/2009/02/managing-editors-note-below...
4.
http://articles.mercola.com/sites/articles/archive/2013/01/24/hpv-vaccine-averting-cancer-unproven.aspx
5.
http://www.huffingtonpost.com/marcia-g-yerman/an-interview-with-dr-dian_b_405472.html
6.
http://truthaboutgardasil.org/new-york-is-trying-to-take-away-parental-rights-please-help/