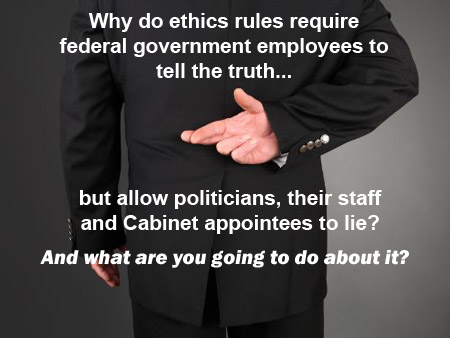 Ethics rules are dangerously weak, ethics watchdogs are actually lapdogs who usually let politicians off the hook, and there are no penalties for violations!
MPs and senators are deciding RIGHT NOW whether to strengthen ethics rules, enforcement and penalties, as are politicians in Ontario, B.C., Alberta and Quebec – THEY NEED TO HEAR FROM YOU PLEASE CLICK HERE TO SEND YOUR LETTER!
If you have already sent your letter, thank you very much, BUT PLEASE NOW SEND THIS ALERT ON TO EVERYONE YOU KNOW, Share it onFacebook, and retweet it on Twitter. Thank you so much for helping spread the word.
DO YOU WANT CLEAN POLITICIANS? If you do, you have to help clean them up by sending your letter now.
DO YOU KNOW HOW BAD THINGS ARE? (Hint: unbelievably bad)
As set out above, and as you know, lying by politicians is legal, and happens almost every day;

Also as set out above, the Prime Minister, provincial premiers, and Cabinet ministers across Canada can secretly invest in companies and then change laws to make the companies, and themselves, a lot of money;

Lobbyists are allowed to send MPs and Senators on all-expenses-paid junkets anywhere in the world;

The staff of MPs and Senators are not even covered by any ethics rules (nor are the staff of most provincial politicians);

Ethics Commissioner Mary Dawson and Senate Ethics Officer Lyse Ricard had enough clear evidence to find Senator Mike Duffy and Prime Minister Harper's Chief of Staff Nigel Wright guilty of violating ethics rules weeks ago, but instead both stopped their investigations;

Ethics Commissioner Dawson has covered up Nigel Wright's very questionable actions at least 3 other times in the past 2 years;

Dawson has let Prime Minister Stephen Harper off the hook 3 times for dangerously unethical actions, and has also let 20 Cabinet ministers (including Jim Flaherty, Lisa Raitt, and Christian Paradis) and more than 60 Conservative MPs, off the hook for unethical, undemocratic actions;

Dawson has covered up at least 80 other cases without issuing a public ruling;

Senate Ethics Officer Ricard is controlled by a committee of senators that has covered up an unknown number of ethics violations over the past 8 years;

Secret lobbying is legal across Canada, and more than 80 lobbyists have been let off the hook for clear violations of federal lobbying rules in the past 10 years, and;

Overall, everything unethical that former Prime Minister Brian Mulroney did with arms dealer-lobbyist Karlheinz Schreiber 20 years ago is still legal.
All together we can make a difference by pushing politicians to clean up governments across Canada through stopping unethical politicians and lobbyists with stronger rules, enforcement, and penalties -- please help win these changes by joining with everyone across the country by sending your letter here.
And please also help Democracy Watch keep this campaign going until the loopholes are closed in all government ethics laws across Canada, and enforcement is strengthened and penalties increased – PLEASE DONATE NOW HERE.
Thank you very much!