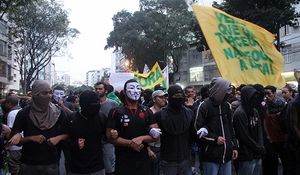 Unprecedented social turmoil continues in Brazil. Truck drivers have started three days of nationwide protests demanding lower fuel prices and exemption from road tolls.
MUBC, the most influential truckers union in Brazil, started a 72-hour strike on Monday. A spokeswoman for the MUBC trucking union headquarters in Rio de Janeiro said drivers were off the job in at least five states: Sao Paulo, Rio de Janeiro, Minas Gerais, Espíritu Santo and Mato Grosso.
The trucking union's demands include a subsidy for diesel fuel, exemption on highway toll payments for drivers and the creation of a new federal government department of cargo transportation.
Truckers protesting on the Anchieta highway that links Sao Paulo to Brazil's main Santos port triggered a 2-kilometer (1.4-mile) traffic jam, according to the highway operator Ecovias. Some other federal highways were blocked as well.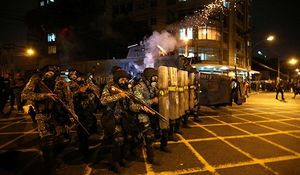 Authorities have declared drivers' action illegal as violating citizens' right to freedom of movement. Police were instructed to use all necessary force to unblock the roads. In some places, the protesters clashed with the police, who used tear gas to disperse the crowd.
The strike comes as the last of Brazil's record soybean harvest is on the way to the ports and traffic from sugar and corn crops is picking up. Brazil relies overwhelmingly on trucks to move commodities and has not developed many trains or waterways.
Brazil's national football team won the Confederations Cup final against Spain on Sunday and there had been expectations that this might appease the protesters. Millions had been demonstrating during the tournament against the cost of holding next year's world cup, the 2016 Olympics in Rio de Janeiro, corruption and poor public services.