East Rutherford, NJ - Attendees to Super Bowl XLVIII will witness yet another exposé of excessive security and infringements of civil rights.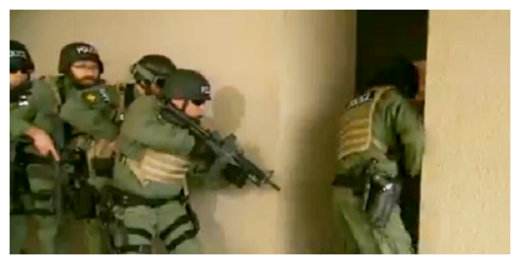 Fans entering MetLife Stadium will be stopped at checkpoints, searched, put through metal detectors, and filmed. Their vehicles may be inspected and their possessions will be limited to what they can fit into a single clear plastic baggie. This treatment has become the norm for the NFL.
The New Jersey State Police Department blog
describes the process of entering the stadium on game day
:
"We are xraying every piece of equipment, every cargo, every beverage, seat cushion, every piece of merchandise, food... everything that is going in the stadium has to be x-rayed before it goes in," Kevin McCabe, Chief of the U.S. Customs and Border Protection agency told
Fox
.
While there is no specific threat posed to the game, security is preparing for bombings and shooters. "I would list them in priority order being a suicide bomber, a vehicle laden with explosives and a mass shooter or mass shooters similar to the Kenyan mall, or the Mumbai incidents,"
said Ed Hartnett
, former head of the NYPD Intelligence Unit.
There will be roughly
3,000 security guards and 700 cops inside the stadium
. SWAT teams will be present at the game and high-altitude sniper nests will be set up above the fans, where sharpshooters can peer down at the crowd with high powered rifles.
"If you have an active shooter or you have anyone who may have a bomb. Snipers have a better angle then anyone who is on the ground to actually hit that target," explained Agent Jonathan Gilliam
to MY9NJ
.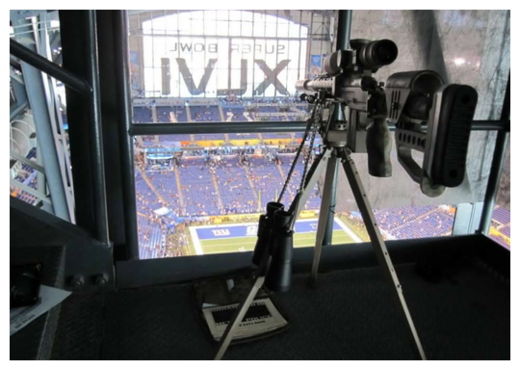 While the overall experience is highly intrusive and distasteful to some, the stadium is a privately owned building, and the terms of admission may be determined by the owner. (Although weirdly, the stadium resides on the Meadowlands complex, which is
land owned by the citizens of New Jersey
.)
A more compelling issue arises from all the excessive policing taking place
around
the stadium, on public land, involving the police and federal government.
The Super Bowl is designated a
Level One national security threat
by DHS, signifying that Homeland Security Presidential Directive 5 is in effect. This means the federal government grants itself the power to intervene with and lead all security operations over a given event and its surrounding region. In other words, money and manpower are thrown at the event with reckless abandon.
The perimeter of the stadium will be patrolled by helicopters in the sky and gunboat patrols in the water, armed with heavy weapons, thermal cameras, radiation detectors, and other high-tech gadgets.
"Everything that we're doing has an air, land and sea concept,"
said Lieutenant Colonel Edward Cetnar
of the New Jersey State Police, who is in charge of security at the game itself. He has 27 security subcommittees which include members of DHS, the FBI, and the NYPD.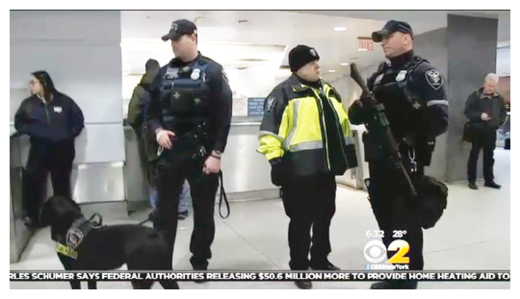 The parking lots of the stadium will be lined with license-plate scanners to log every vehicle that arrives. The vehicles may then be searched. According to NBC News, federal agents have declared that they will be searching every truck that arrives - no probable cause needed.
There will be over 100 law enforcement agencies converging in and around the game. The police presence will be truly massive. Mobile Command Units are parked on almost every block. NYPD mobile watchtowers are set up along the sidewalks.
Roughly
200 "temporary" surveillance cameras
will be installed to monitor Super Bowl fans, in addition to the 2,000 permanent cameras already in place.
A no-fly zone has been imposed for 10-miles in every direction around the stadium, and will be
enforced by armed Blackhawk helicopters
. The gunships will be prepared to shoot down violators of the no-fly zone. Even an Air Force
F-16 fighter jets will be patrolling
the no-fly zone.
"At 4:30 in the morning, if you had been up, you would have seen a couple of military jets, F-15s, streaking across the skies of New York City chasing a plane. They actually drill this when everybody's asleep so nobody sees anything that would alarm them in broad daylight," said NYPD Deputy Commissioner of Intelligence
John Miller told "CBS This Morning."
National Guard soldiers will be on the ground participating in security, wrote Politico.
Truck checkpoints will be located on the streets around the city,
according to CBS News
. Evidently vehicles will be stopped without probable cause and searched.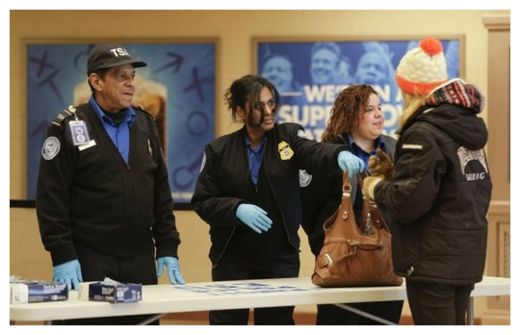 Public transportation is littered with police and federal agents, searching people on a whim.
The TSA started its "random checkpoints" on Friday, two days before the game. The agents were searching and swabbing ladies' purses.
"It feels secure,"
said Robert Caballero
to ABC News after his wife and daughter had their purses searched by TSA agents at the train station. "It's a great idea. In this day, unfortunately, it's better to be safe than sorry."
Says the
TSA on its blog
: "Super Bowl fans may encounter TSA Visible Intermodal Prevention and Response (VIPR) teams on local transportation venues, including commercial and general aviation facilities and mass transit." These armed VIPR teams are free to roam around in and around public transportation venues and perform
"suspicionless" searches on demand
.
Train riders are growing accustomed to TSA checkpoints. This weekend, riders will be searched without probable cause before boarding and after exiting. According to
ABC News
:
The NYPD
will utilize its teams of officers in stopping, boarding and inspecting subway trains; and subway container inspection and explosive trace detection, in which officers examine bags and other containers carried by passengers entering the subway system to detect explosives.
Newark Liberty International Airport is going to be
crawling with bomb-sniffing dogs
, each of whom cost $200,000 to train.
The overall cost of the Super Bowl to taxpayers is estimated at
$17.7 million
and counting.
"This is the Super Bowl of security," as
CBS News
aptly put it.